About BIPOC Sangha
Mondays, April 10 & 24
The Black, Indigenous, and People of Color (BIPOC) Sangha is a bi-weekly gathering of self-identified BIPOC practitioners who meditate together and explore the teachings of the Buddha in the light of personal experience. Each bi-weekly session offers a short talk, guided meditation, and/or a silent sit for 30 - 40 minutes. Some gatherings add a 10 - 15 minute question and response period to help support the practice.
While we understand that many non-BIPOC people may be interested in participating, we ask that they refrain from joining this program which is specifically offered to provide shelter and respite to our BIPOC community.
This program will be recorded and made available for on-demand viewing after the live sessions. On-demand videos will be available to registered participants for 90 days.

Tuere Sala
Tuere Sala is a Guiding Teacher at Seattle Insight Meditation Society and the founding teacher of the Capitol Hill Meditation Group. She is a retired prosecuting attorney who has practiced Vipassana meditation for over 30 years. Tuere believes that urban meditation is the foundation for today's practitioner's path to liberation. She is inspired by bringing the Dharma to nontraditional places and is a strong advocate for practitioners living with high stress, past trauma and difficulties sitting still. Tuere has been teaching since 2010 and has a long history of assisting others in establishing and maintaining a daily practice.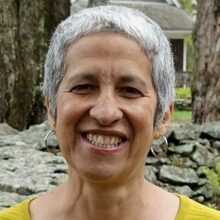 bruni dávila
bruni dávila has practiced Vipassana and Zen since 1995. A student of Andrea Fella and Gil Fronsdal, she practices and teaches at the Insight Meditation Center in Redwood City, CA, and also teaches Dharma in Spanish in the wider Bay Area. She is currently a participant in the 2017-2021 IMS Teacher Training Program. bruni dávila, originaria de Puerto Rico, emigró a los Estados Unidos continental en 1991. Ella ha practicado la meditación introspectiva/insight en las tradiciones Vipassana y Zen desde 1995. bruni es estudiante de Gil Fronsdal y Andrea Fella, y enseña en español e inglés en Insight Meditation Center en Redwood City, CA, y a varios grupos en el Área de la Bahía. bruni participa en el Programa de entrenamiento 2017-2021 para Maestros del Insight Meditation Society (IMS). Para una lista de charlas del dharma en español, https://www.audiodharma.org/teacher/244/
If you would like to enroll in the full 12 month program, click the button below to learn more about the program bundle.