Thursday, December 1
7:00 pm - 8:10 pm ET
This program is now closed to new registrations.
Open to all. 
Daily we are asked to stretch in the direction of goodness, kindness, forgiveness, patience, and vulnerability. Yet life's fragility, fear and anxiety, and our own self-sabotage can derail us from growing and thriving, leaving us stuck, fractured, and constantly second-guessing ourselves. How can we gain greater self-awareness and bravery to break these patterns?
Ordained Buddhist teacher and Quaker Valerie Brown invites us into the heart of compassion, insight, and courage. Hope Leans Forward explores Buddhist teachings on the Seven Factors of Awakening and the wisdom of Quaker faith and practice. It is a guidebook for all of us who are on journeys of self-transformation, self-discovery, and spiritual discernment. Centering small, everyday acts of bravery with diverse stories from marginalized communities, Brown's unique perspective as a Black Buddhist Dharma teacher in the Plum Village tradition and her extensive leadership experience shepherd us in navigating life's essential questions to discover true aliveness and meaning. When we focus on cultivating clarity and discernment in our purpose, we begin to understand that we are truly connected to―and that we contribute to―a larger whole.
This program will be recorded and made available for on-demand viewing after the live session. On-demand videos will be available for 90-days following the live event.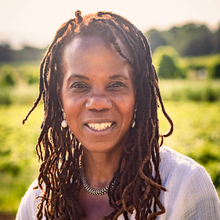 Valerie Brown
Valerie Brown is an author, ordained Buddhist-Quaker Dharma teacher in the lineage of Zen Master Thich Nhat Hanh and the Plum Village tradition, facilitator, and executive coach specializing in leadership development and mindfulness practices with a focus on diversity, social equity, and inclusion. A former lawyer and lobbyist, Valerie transformed her high-pressure, twenty-year career into serving leaders and nonprofits to create trustworthy, authentic, compassionate, and connected workspaces. An accredited leadership coach, she is the Founder and Chief Mindfulness Officer of Lead Smart Coaching, LLC, supporting leaders to apply and integrate leadership and mindfulness for greater resilience, clarity, and creativity, and is a co-director of Georgetown's Institute for Transformational Leadership.