Tuesdays, February 6 - March 26, 2024
7:00 pm -9:00 pm ET
The Blessed One said, "Mindfulness of death, when developed & pursued, is of great fruit & great benefit. It gains a footing in the Deathless, has the Deathless as its final end. Therefore, you should develop mindfulness of death." - Maranassati Sutta: Mindfulness of Death
This online program is a community exploration of living wisely and fully in the light of our mortality.   
Embracing our life's impermanence can give rise to letting go and a sense of freedom so that we can face our death with a growing calm.  We can harness the power of reflecting on mortality to stay aligned with our deepest values, to love more fully, and be happier and more present for this miraculous, passing show called our life.  Together, we will turn towards fear of death to support ourselves and loved ones to be as prepared as we can for the transformational process of dying and the moment of death. 
Join us as we gently explore the richness and depth of this practice together. The program is held online and includes real-time lectures, guided meditations, discussions, and question and answer periods.   Small group exercises (through breakout rooms on Zoom) are an integral part of our exploration and learning process.  In addition, there will be weekly assignments to deepen your engagement with the material through meditation (audio provided), written reflections, and art/poetry.
Participants are, of course, welcome to enroll as individuals - and, we invite you to consider enrolling with a friend or fellow sangha member. The small groups in our program will be made up randomly, but if you enroll with friends, you will have support to continue these practices and reflections after the class ends.
Choose your enrollment fee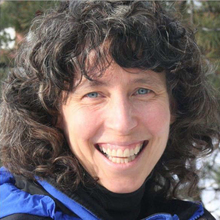 Jeanne Corrigal
Jeanne Corrigal has been practicing since 1999, is a graduate of the Spirit Rock Community Dharma Leader Program, and the guiding teacher for the Saskatoon Insight Meditation Community. Jeanne is a member of the mixed heritage Métis Nation, one of three Indigenous communities recognized in Canada. One of her first teachers in loving presence was Cree Elder Jim Settee. She is a graduate of the 2017-2021 IMS Teacher Training Program.
Nikki Mirghafori
Nikki Mirghafori, PhD, is a Buddhist teacher and Artificial Intelligence scientist. She is a lineage holder in the Theravada tradition, empowered by the Burmese master Venerable Pa Auk Sayadaw, as well as the Spirit Rock Meditation Center, Insight Meditation Society, and the Insight Meditation Center. She serves on the Teachers Council and Board of Directors at the Spirit Rock Meditation Center in Woodacre, CA, and also as a Teacher at the Insight Meditation Center in Redwood City, CA. She's a Stanford-trained compassion cultivation instructor, a Berkeley ex-academic, and author. Nikki is of Persian heritage, and aspires to serve as a doula for wisdom and compassion.
Equity Pricing Model

As one part of our ongoing effort to expand access to the teachings of the Buddha, all IMS Online programs feature equity-based registration fees, including the opportunity to self-select a low-cost scholarship rate. No-fee enrollment is available for those who request a fee-waiver at [email protected], no questions asked. Our system supports the cultivation of a dynamic and inclusive community and is made possible by our generous donors and those who choose to support other students by contributing at the "Benefactor" level.

Registration Deadline

Registration for this program closes on February 6, 2024.

Program Recordings

This program will be recorded and made available for on-demand viewing after the live sessions. On-demand videos will be available to registered participants for 90 days.

Additional Questions

If you have additional questions please contact us at [email protected].