Sunday, August 14, 2022
9:00 am - 12:00 pm ET
This program is now closed to new registrations.
Through insight meditation, we get to know the qualities of the heart-mind and how to cultivate its highest expression. With skillful and dedicated practice, we may come to recognize moments of choice and opportunity in our lives, and better discern which options may result in freedom, and which paths are likely to lead to additional suffering.
This summer, join bruni dávila and other experienced meditators for a special Mini Retreat exploring the themes of choice and wise selection, and nourish yourself through the support of community and the sharing of the innate qualities of our hearts. This Mini Retreat can be practiced in noble silence and/or by including tasks and circumstances of daily living, as an integrated part of mindfulness practice.
This Mini Retreat is for experienced practitioners with at least one year of meditation experience. 
This program is offered live and will not be recorded.
.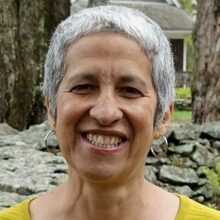 bruni dávila
bruni dávila has practiced Vipassana and Zen since 1995. A student of Andrea Fella and Gil Fronsdal, she practices and teaches at the Insight Meditation Center in Redwood City, CA, and also teaches Dharma in Spanish in the wider Bay Area. She is currently a participant in the 2017-2021 IMS Teacher Training Program. bruni dávila, originaria de Puerto Rico, emigró a los Estados Unidos continental en 1991. Ella ha practicado la meditación introspectiva/insight en las tradiciones Vipassana y Zen desde 1995. bruni es estudiante de Gil Fronsdal y Andrea Fella, y enseña en español e inglés en Insight Meditation Center en Redwood City, CA, y a varios grupos en el Área de la Bahía. bruni participa en el Programa de entrenamiento 2017-2021 para Maestros del Insight Meditation Society (IMS). Para una lista de charlas del dharma en español, https://www.audiodharma.org/teacher/244/